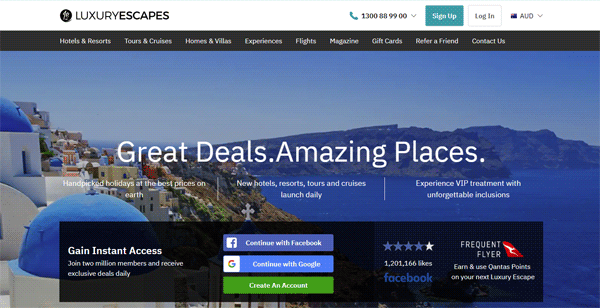 Luxury Escapes does a great job working with these premium destinations that you've always been dying to go to, and making it affordable enough so you can finally have your dream vacation. They are also one of the few companies where it actually pays off to sign up for a membership, because we'd say 70% off travel deals when you're planning your next trip is definitely worth it! Grab your Luxury Escapes promo codes or Luxury Escapes vouchers right here and start travelling for less.
Get an additional $50 off your vacation with the Luxury Escapes price match guarantee.
Become a Luxury Escapes member for free and get up to 70% off travel offers and deals.
Earn 1 Qantas point for every dollar spent on eligible vacations at Luxury Escapes Australia.
Score up to 75% off hotels and resorts in popular destinations at Luxury Escapes Australia.
Find select Luxury Escapes homes and villas for up to $1000 off.